GOROGORO STEAMBOAT & KOREAN BUFFET
GoroGoro Steamboat & Korean Buffet caters to different taste preferences by having seven choices of soup bases to choose from, including Singapore's famous Pepper Bakuteh, Korean's favourite Ginseng, Beauty Collagen Soup, as well as Mala that's well-loved by the Chinese. Guests can expect up to 70+ selections of raw food items to dip in the pipin' hot soups as well as korean and local delicacies.
Although many Non-Korean speakers mistakenly thought that "GoroGoro" is a word from the Korean or Japanese vocabulary, it certainly is not. The name actually are suggestions of a rumbling tummy when you are hungry, and the hot bubbling sound of the steamboat soups when they are boiling. GoroGoro – Quality food and service, wide variety, cozy ambience, value for money!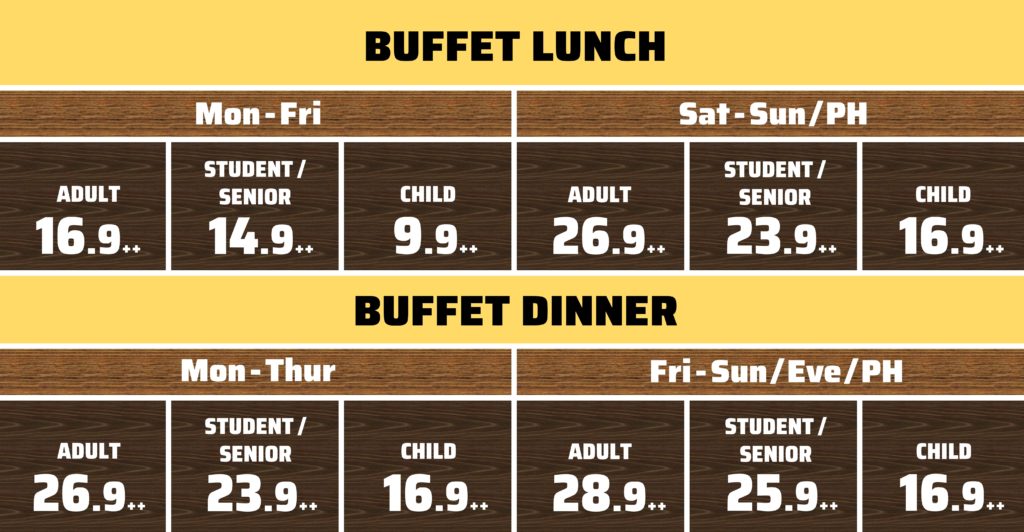 MINIMUM 2 PAYING PAX TO DINE
CHILD: 90-140cm Height / Below 90cm: Free!
STUDENT: Valid Student Pass must be presented
SENIOR CITIZEN (Aged 60 & above):
NRIC or Valid Senior Citizen Pass must be presented
DINING DURATION:
Weekday Lunch: 90 mins
Dinner & Weekend Lunch: 3 Pax & below: 90 mins, 4 Pax & above: 120 mins
BUY 2 GET 1 FREE ALCOHOLIC DRINKS!​
Soju . Makkoli . Hite Beer
Buy 2 Bottles of Alcoholic Drinks & Get 1 Bottle Free!
The Free Item has to be of lower value than the paid items.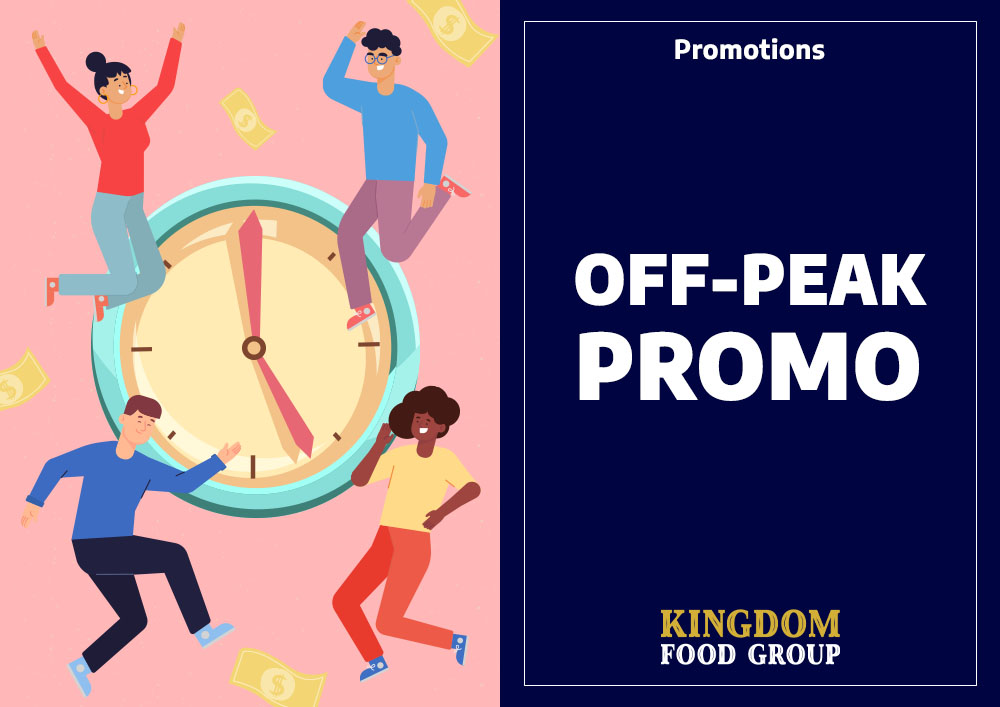 OFF-PEAK PROMO (UP TO 20% OFF ADULT BUFFET)
Available at Selected Kingdom Food Group Restaurants!
Timeslots and discounts differ across restaurants. Discount % will appear on the reservation forms beside that particular timeslot if it is applicable.
Off-Peak Promo is strictly only for reservations via our online booking system. It is not available for walk-ins.
Applicable for Regular Adult Buffet only. Not valid for Student, Senior & Child rates.
Not applicable for alcoholic drinks, canned drinks, ice-cream or other ala-carte items sold at the restaurants.
Not applicable with other promos (including promo codes), discounts, vouchers and privileges.
All guests are required to reach on time, and leave by the stipulated timings to enjoy the discount.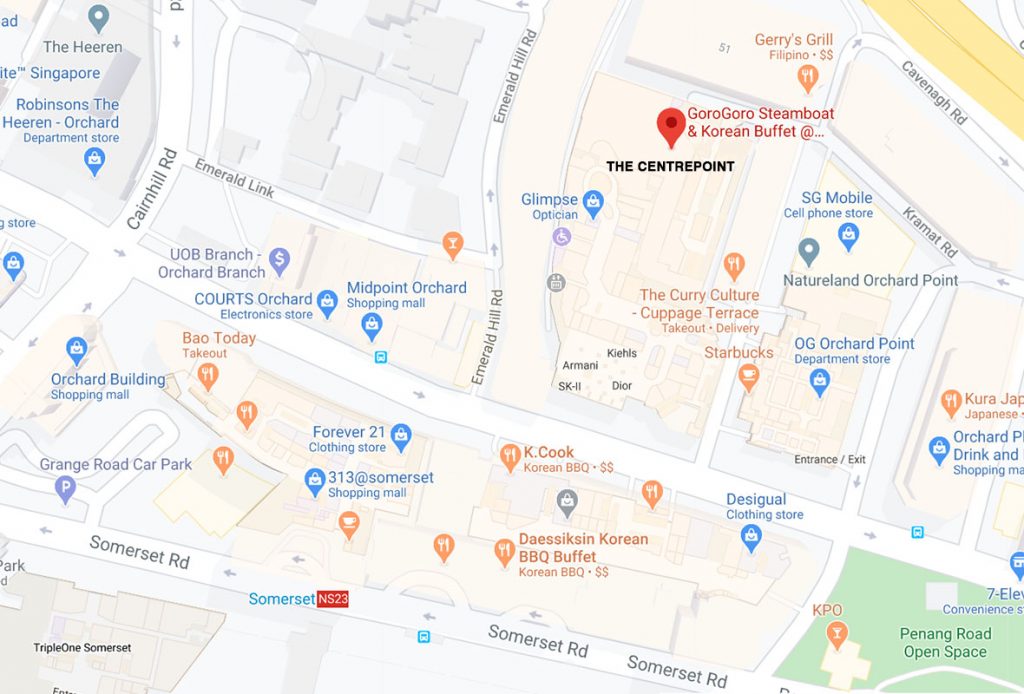 LOCATION: The Centrepoint: 176 Orchard Road #03-43 Singapore 238843  
CONTACT: +65 63857854
NEAREST MRT: Somerset (NS23) – 5 mins walk
OPERATING HOURS:
Weekday: 11.30am – 3.00pm, 5.00pm – 10.30pm 
Buffet Counter closes at 2.30pm & 10.00pm respectively
Weekend/PH: 11.30am – 3.30pm, 5.00pm – 10.30pm 
Buffet Counter closes at 3.00pm & 10.00pm respectively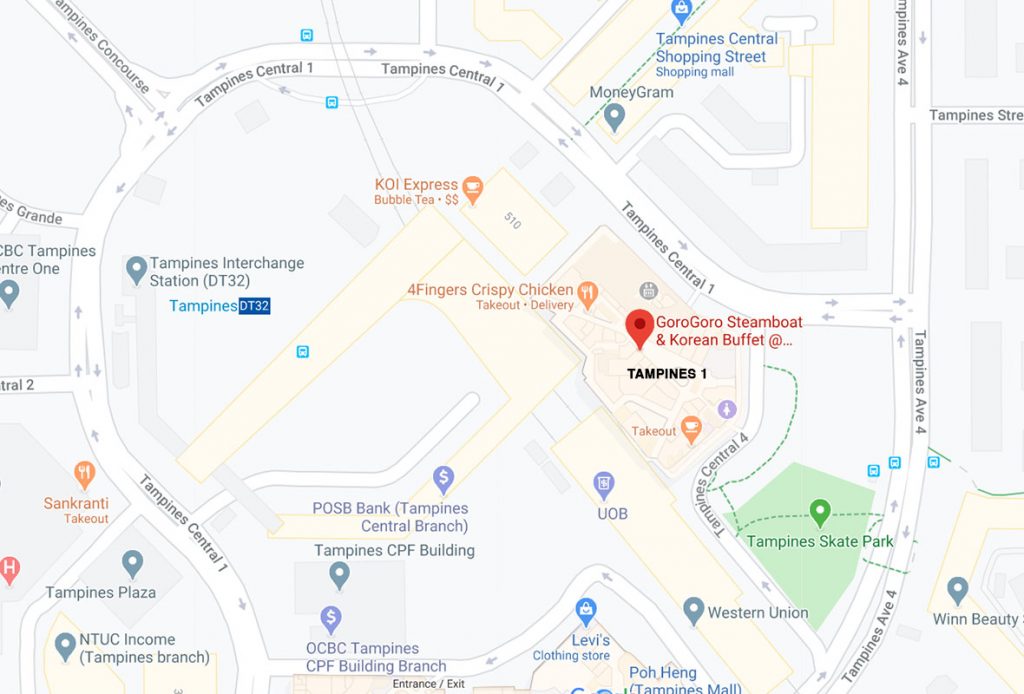 LOCATION: Tampines 1: 10 Tampines Central 1 #03-16A Singapore 529536
CONTACT: +65 65094281
NEAREST MRT: Tampines (EW2 / DT32) – 3 mins walk
OPERATING HOURS:
Weekday: 11.30am – 3.30pm, 5.30pm – 10.30pm 
Buffet Counter closes at 2.30pm & 10.00pm respectively
Weekend/PH: 11.30am – 4.00pm, 4.00pm – 10.30pm 
Buffet Counter closes at 10.00pm